Postcards from FWIBF 2017
FIRESTONE WALKER
INVITATIONAL BEER FEST
To properly drink… binge... ahem… taste at a beer festival you really should bring a spare liver, a few dozen extra taste buds, and the stamina of a carthorse.
When I, and my fellow BoozeLeaguers, descended upon the Firestone Walker Invitational Beer Fest, we had none of these things (ed. note: The Commish had all these except extra taste buds. He's actually still short a few right now). Instead, we had a few family members, the guidance of two local master homebrewers, a bucket of sunscreen, and a lot of hope.
The lines are long. Text messaging is sparse as BoozeLeaguers arrive from different directions, at different times, and with different agendas. My family makes an appearance two hours after the festival begins and the line to get in still stretches around the block. Pregame with water from Master Brewer's hydropak (on Master Brewer's orders), look longingly at neighboring young people in line pre-gaming with some of Firestone Walker's Easy Jack IPA. Sister hands me SPF 150 sunscreen and glares at me until it's applied. She's definitely someone's mom. Wife points out that I've missed the (only somewhat growing) thinning spot on top of my head. Glare at Wife in 80° heat and accept more sunscreen.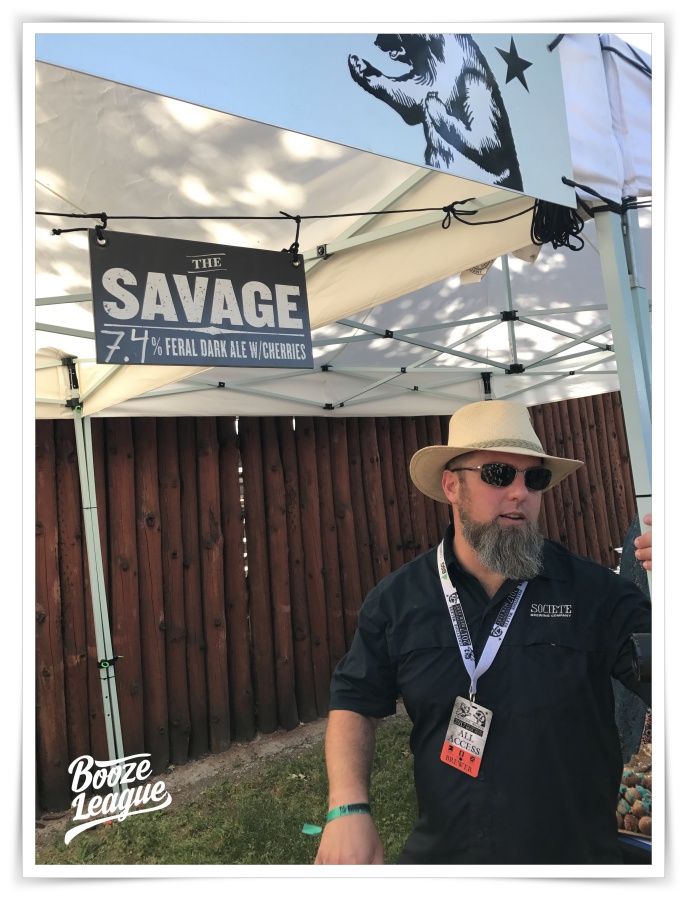 Welcomed into the fest properly. Handed a wristband, a tasting glass, and a recyclable bamboo plate (supposedly for the free food). Fill plate with more tasting glasses of Firestone Walker's Propagator Lager, Witbier, and Hefeweizen. Must be a hole in each glass as they can't seem to hold their liquid. Pass off extra (and potentially illegal) extra glasses to spare table. Rush to rejoin family. No sign of BoozeLeaguers. Master Brewer and Master Brewer's Friend, Second Master Brewer guide Wife and Master Brewer's Wife (my sister) in a beeline for the International Tent. Terribly stifling under the big top. Tastings include Italy's Birrifico Italiano Inclusio Ultima (lager), Germany's BraufactuM Imperial Pils, and Brazil's Cervejaria Bamberg Bamber Rauchbier (no idea). Stole too many free coasters from Birrificio Italiano, suspicious of the rauchbier. Master Brewer and Sister sipping something lambec-like from Oud Beersel. Mistrust their appreciation of fruit at a beer event. Feeling quite oven like in tent. Mutual agreement to leave our international brethren and seek fresh air further on.
Spent an hour in line for some of the most delicious food I've ever had at any sort of outdoor event. All fresh, all delicious. Feeling better about life. Filled my own hydropak and now quite rejuvenated. Have also soaked hat and most of my clothes in fountain. Wife eyeing new beer lines (shorter now that we are out of the international tent). Why yes, yes, I think I'm ready for another. Discover Gigantic Brewery and their very lovely staff introduce me to Pipewrench IPA, which is an IPA aged in gin barrels. Pretty much the best thing I've discovered so far. Go back for thirds. Sister and Master Brewer oohing and aaahing over Gigantic's Single Barrel Massive Stout aged in Macallan scotch whisky barrels. Also delicious, but too hot to taste properly. Wife discovers Boulevard Brewery next stall over and their Lemon/Ginger Radler. Decides that is the best that she's had to date. Also goes back for thirds.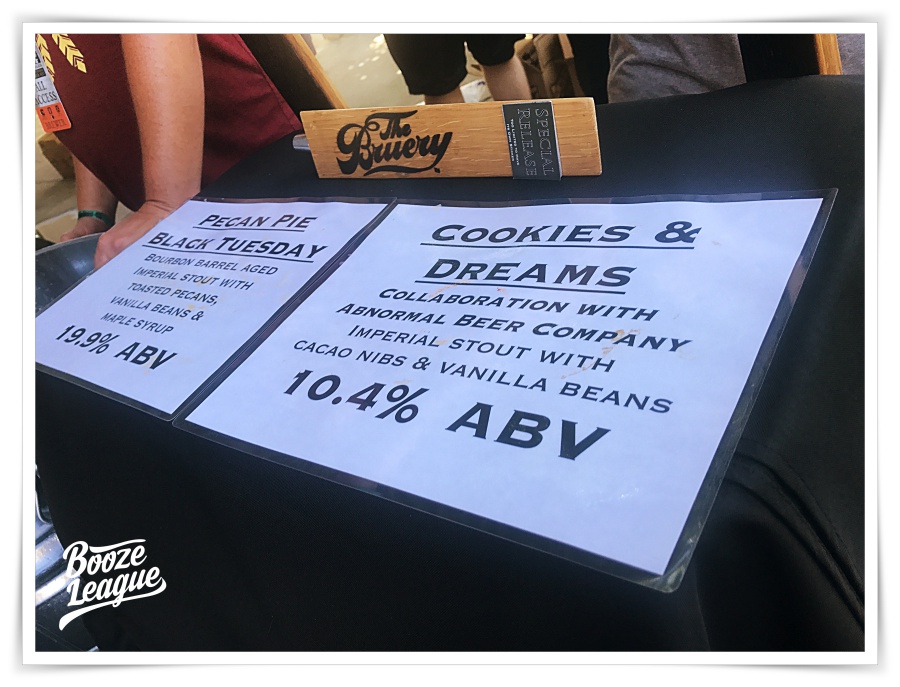 Dropped tasting notes papers in puddles of beer. Laugh at the ruined ironic wet mess. Swear to just remember the rest of the breweries and tasting notes. Ignore the side eye from boorish compatriots. Fellow BoozeLeaguers The Commish, Gamesmeister, and Spicoley appeared sometime in the last four hours but have now lost them to the siren song of Brewery Ommegang. Have discovered the ice cream truck and a shady spot on the grass with live music. Wife declares intention to never move again. More water. Sister, Master Brewer, and Second Master Brewer (who has been along all this time) vanish in search of sours. Make several trips back to Gigantic and Boulevard.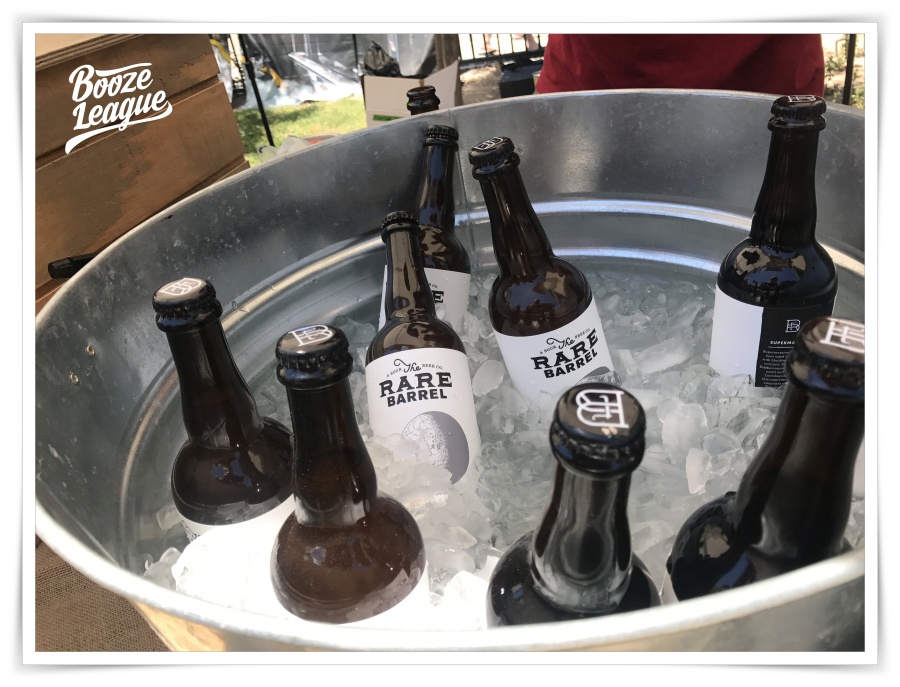 Collected by long suffering family member and all dropped off at Sister's home. Motion put forward to go see Wonder Woman in (blessedly) air conditioned theater. Discover they serve Firestone Walker at theater. All is right with the world. Must have had too much sun as keep closing eyes during movie. However, opening eyes to random scenes of Gal Gadot being badass and explosions is a life altering experience.
Bed. Master Brewer goes to check his kegs and perhaps have a nightcap. Wife already asleep. Sister wants whiskey. Tap out until morning.
Jeff Scattini is Booze League's Lifestyle Editor. He has been writing since he was a child, but back then they just called it lying. He lives, and drinks, in San Francisco with his wife and apartment-sized pets. Contact him at jeff@boozeleague.com or on Twitter @jefreyscattini