Where to Booze with a Hound on the CA Central Coast
"No one appreciates the very special genius of your conversation as the dog does."
-Christopher Morley
There's slim chance of making a valid argument that dogs don't make great travel companions. The simple, pure joy a canine feels when out exploring the world with their master is infectious. More and more those who are inclined to a lifestyle of boozing are discovering the pure and simple joy of exploring new watering holes with their furry buddy. Most breweries welcome dogs, as do most wineries, provided that there is not food being served.
Just a few hours from the Los Angeles metro area, the California's Central Coast is home to numerous breweries, wineries, and varied boozing establishments. It is also home to some of the most beautiful coast in the country. Combine all that with a wagging tail and you've got one hell of a sweet vacay.
With all that in mind, I loaded up Darby, Booze League's Official BoozeHound™, in the Commishmobile and pointed it North. Here are our favorite drinking spots on the Central Coast...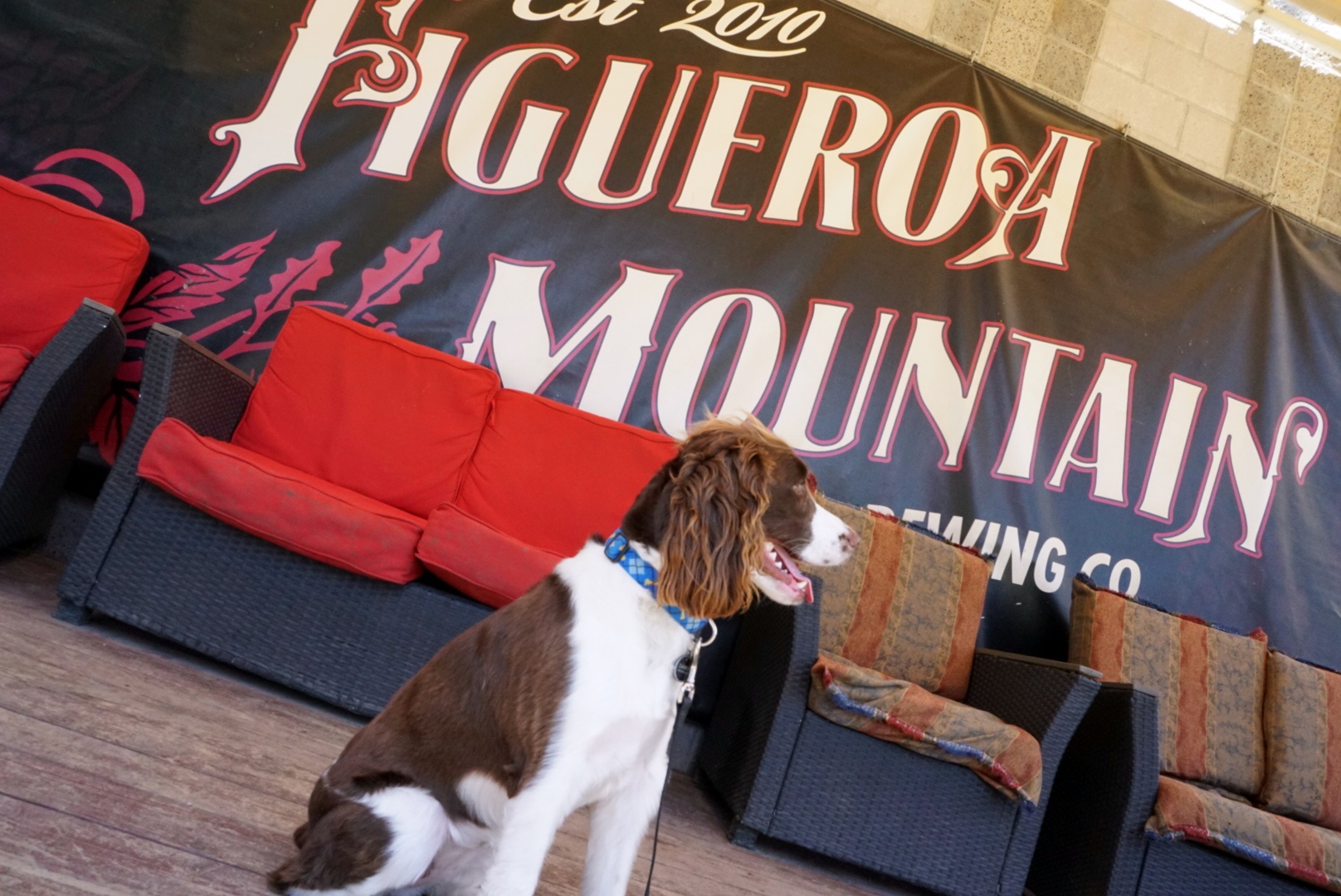 Figueroa Mountain

Brewing Co.
Our first stop up the Central Coast was at Figueroa Mountain Brewing Company's original taproom and brewing facility in Buellton, CA. While still relatively young, Fig Mountain has become one of the nation's fastest growing breweries. Founded in 2010 by father and son Jim and Jaime Dietenhofer with a handful of employees, Fig Mountain now has six taprooms and over 200 members of the #FigFam (including everyone's favorite Booze League Tall Person, Otter).
I remember sitting next to Jim Dietenhofer at Firestone Walker's Buellton Taproom (now known as Barrelworks) back in 2011 and listening to him excitedly talk about the new brewery that had just opened up across the freeway. It didn't take long before their Danish Red Lager had won me over and now Darby and myself are Mug Club members at their Westlake Village taproom. That taproom is the first brewery Darby had ever visited (at a mere 9 weeks!) and is where she got a lot of the socialization that's so important for puppies.
Given that Fig Mountain had been such an integral part of Darby's upbringing, it would make sense that we would make the first stop on our road trip here. While dogs are not allowed inside the building itself, Fig Mountain boasts a sizable outdoor area with picnic tables, multiple corn hole sets, giant jenga, horseshoe pits and a stage for live music. They have multiple dog bowls outside to hydrate your pooch, and a legit selection of their beers to hydrate yourself.
Let's talk food and libations! As with many breweries, each Fig Mountain Taproom has a selection of beers that you can only find at that specific location. Always make sure to ask what special beers they might have. When we were there they still had their Trail Pale Apollo which is a solid 6.3% American Pale and I had to get a mug full. If you're hungry, their menu, while not extensive, is all really good. From the healthy offerings of a Kale Quinoa Salad to not-so-healthy "I'll Work Out Tomorrow I Swear" offerings of Chorizo Cheese Fries (add a fried egg on top for a $1.50!). They've also got gastropub-level burgers and sandwiches and a kids' menu for the wee ones.
I'd been to Avila Beach a few times. I have not yet seen the weather there be unpleasant regardless of what date is on the calendar. The one thing that struck me every time I stopped in was that everyone seemed to have a dog. And all those dogs looked sandy, wet and extremely happy. That always stuck with me, and when planning this trip, it was the picture of Darby running around Avila (as well as Barrelhouse Brewing, which we'll get to later) that really inspired me to write this article.
I wasn't disappointed. Avila Beach is a very small and overwhelmingly quaint town. It sits on the outskirts of San Luis Obisipo, brimming with restaurants, boutiques, and wine tasting rooms. During the summer, the pier-front boardwalk is jammed with a mix of strolling couples, families, happy dogs, and jogging Cal Poly SLO co-eds. While there's only a handful of booze-serving establishments along the pier-front, all of them have spacious outdoor patios that cater to those who want to sit and enjoy the day with their best pooch at their feet.
Our first stop here was Pierfront Wine and Brew. Pierfront is the smallest of the restaurants along the boardwalk, but they've got bougie couches and excellent local craft beer on tap . Their bottle selection, for both wine and beer, is excellent and their tapas-style menu features light dishes such as hummus and fresh veggies. Every single time I've enjoyed a beer on the patio at Pierfront, I've ended up engaged in a good conversation with a table of locals, most of whom have sandy, dozing dogs at their feet.
A few doors down the boardwalk from Pierfront Wine and Brew is Mr. Rick's, which is something of an institution in the area. Mr. Rick's is the exact bar everyone remembers from their college days. The interior is a large open space filled with pool tables, a stage for live bands, and zero wall space due to the overabundance of beer signage. A bar runs the full length of Mr. Ricks offering 16 taps and a myriad of liquor bottles harboring the components to such fantastical beach-sipping drinks as the Pink Mermaid, the Tijuana Mule, and the Tangerine Mai Tai. Live Music is featured on the weekends, but the Monday - Thursday Happy Hour is legit with $3 well drinks and specials on pitchers of beer.
In fair disclosure, your humble Commish had one of his most all time embarrassing drunk moments at Mr. Ricks that combined an errant pool cue, two co-eds, and a kicking buzz. But that was late on a Friday night after putting in some serious work day drinking. On this particularly temperate Wednesday afternoon, Mr. Ricks was a pleasant beachside paradise where one could sip an icy cold adult beverage and enjoy the ocean breeze.
It's important to note that Avila Beach has a tendency to start closing things down early. If it's a weekday trip up the Central Coast, there's a good chance that the eateries and drinkeries will start winding down around 8pm. On this night, Old Custom House was serving until around 9pm. Watching the sunset from this patio with your best dog by your side while sipping on a selection from their extensive wine cellar is not a bad situation. The wait staff were super cool and adored Darby (she's the ultimate wingman or wingwoman or wingpooch or whatever). If you end up there in the evening, get the Braised Tenderloin Beef & Asiago Tortellini. Don't even think about it, just do it. I can't get it out of my head. It's like the dish that got away and I still haven't gotten over the breakup.
"Tin City" just sounds like it should be cool. It could also be the name of a settlement in Fallout 4 or Mad Max, but lucky for us it's a real place with some real good booze. Tin City itself is essentially a two block industrial park consisting of structures all made from (SPOILER ALERT!)...tin. There are a handful of tasting rooms open to the public right now, but the best three so far are all on one corner. Even better, each one offers a completely different style of booze and are very dog friendly.
The crown-jewel of Tin City is Barrelhouse Brewing Company. Founded in 2013, Barrelhouse now has 3 locations and a lineup of beers that won't disappoint. The Barrelhouse Blonde or Barrelhouse IPA are probably familiar as they are on tap across Southern California, and the Sunny Daze Citrus Blonde Ale is like summer in a bottle. Barrelhouse's main brewery is at the Paso Robles location along with a beer garden and a newly built amphitheater for concerts under the stars.
Barrelhouse's interior has a number of tables squeezed in amongst the bar and brewing equipment, but the outdoor area is where they really shine. A vintage flatbed truck serves as a stage for live music (see Darby in the picture above), along with tables, corn hole, a couple Bimini Ring Games, and a sizable waterfall/pond water feature.
Barrelhouse holds a special meaning for me. Two years ago I was sitting in one of their lounging chairs, enjoying a Barrelhouse Blonde when a very nice woman with a beautiful young Labrador sat down in the chair next to me. This was one of the most chill, awesome and friendly dogs I had ever encountered (turns out it had had flunked out of comfort dog training for being too friendly to strangers and getting distracted). While petting that pooch's head and drinking a tasty BHBC brew, I looked out over the oak tree and corn hole set covered expanses and made the decision to get a BoozeHound™ of my own. This was the first time returning to Barrelhouse Brewing since getting Darby and she was quite a hit with everyone sipping ice cold beer under a clear blue Paso sky.
Across the street from Barrelhouse Brewing is the Wine Shine Distillery. Unbeknownst to many, there's a distillery boom happening right now in Paso Robles. Paso Robles has experienced successful booze booms before: ten years ago, there were under 40 active wineries, while now you can find close to 200 operating in the area. Still in its infancy, the distillery boom in the Paso Robles area already has a Distillery Trail consisting of 9 distilleries.
One of the first distilleries to join the Distillers of SLO County on this Trail is Wine Shine. Wine Shine's selection features a robust list of creative brandies. From the conservative neutral or oak brandy to the exotic Mango/Ginger/Black Peppercorn Brandy. Other intriguing offerings include Turkish Fig Brandy, French Oak Cinnamon Brandy, and Hibiscus/Lemon Brandy. Wine Shine has also recently released the Manhattan Project, which is their expression of the classic Manhattan cocktail blended, barrel-aged, then bottled. Both the whiskey and brandy versions of the Manhattan Project use vermouth and bitters distilled there on site. Wine Shine's tasting room is open at 1pm Thursday through Sunday and other times of the week "by appointment or luck." Ask for Patrick and tell him that Wylie sent you to get treated right.
A short, wobbling stumble (thanks, Patrick!) back across the street will take you to Tin City Cider Company. If you're one of those people who assume ciders come in only 2-3 standard flavors, Tin City Cider will blow your mind. Tin City Cider opened in just the last year and was founded by three local winemakers.
With a collaboration of three such refined palates, it was inevitable that the ciders produced would be unexpected, creative, and innovative. There is the Original Cider, which combines a selection of apples, a selection of yeasts (including Belgian Saison yeast and Champagne yeast), and an aging in French Oak and Acacia barrels. The result is a smooth, refreshing, and pleasantly complex cider that will make you question how you could ever put Angry Orchard in your mouth. And that's just the beginning of your cider-piphany. Liliko'i Cider is fermented with locally grown Passionfruit and dry hopped with Nelson Sauv with a 4 month French Oak barrel-aging. Perhaps most striking is the Templetucky Cider. Fermented in Old Bourbon Casks with blood oranges, Templetucky is dry hopped in the barrel with Mandarin hops. If you've ever wished there was a more refreshing and less boozy version of an Old Fashioned cocktail, Templetucky is your answer. Tin City Cider is open 7 days a week by no later than 2pm!
If you do stay in Paso, I highly recommend Fish Gaucho for dinner. I mean holy jeebus take a look at this burrito. This is a chicken burrito. This is what Fish Gaucho does with a simple freaking BQQ Chicken Burrito! The margaritas are top notch as well.
Finally a quick word about lodging. There are a number of places along the Central Coast that offer a place for you and your pooch at night. Many of them have special rooms allotted for that type of guest, and most of them charge an additional pet fee for the privilege. It's best to check ahead for lodging as those hotels with special dog rooms usually have only a small quantity. Plus the dog fee can vary greatly.
Hotel La Fonda in Avila Beach is a gorgeous Spanish style hotel and only charges a $50 pet fee. If you don't mind a pet fee, I highly recommend this hotel. You get a pair of free wine glasses when you check in, a giant basket of goodies for you in your room, and a selection of free treats for your furry companion. There's a complimentary wine and cheese hour in the evening (the staff were kind enough to watch Darby while daddy went to grab his vino), complimentary fresh-baked croissants in the morning (OMG, you guys!! Do know know about croissants? Holy shit they're good!), and, best of all, FREE NACHOS AT NOON.
I'd also recommend the La Quinta off Highway 46 East in Paso Robles. There's no pet fee and the rooms are very nice. They have a wine and cheese reception on weekday evenings with local wineries pouring samples and free hot breakfast in the morning. Try to get the rooms in the new building. They feature a full kitchen and a balcony to sit on and enjoy some wine.
It was a short trip, so I'm sure I missed some really good dog-friendly boozing establishments. What do you think? Where are your favorites? Let us know in the comments below!