Five Drinks for Fat Tuesday
Fat Tuesday. One last chance to blow it out before you Lent.
Not everyone can make it to the drunken rager that is Mardi Gras in New Orleans, but that doesn't mean you can't be there in spirit. Or spirits. Lots and lots of spirits. So pull out those beads, pull up that shirt, and enjoy Booze League's favorite five Mardi Gras libations!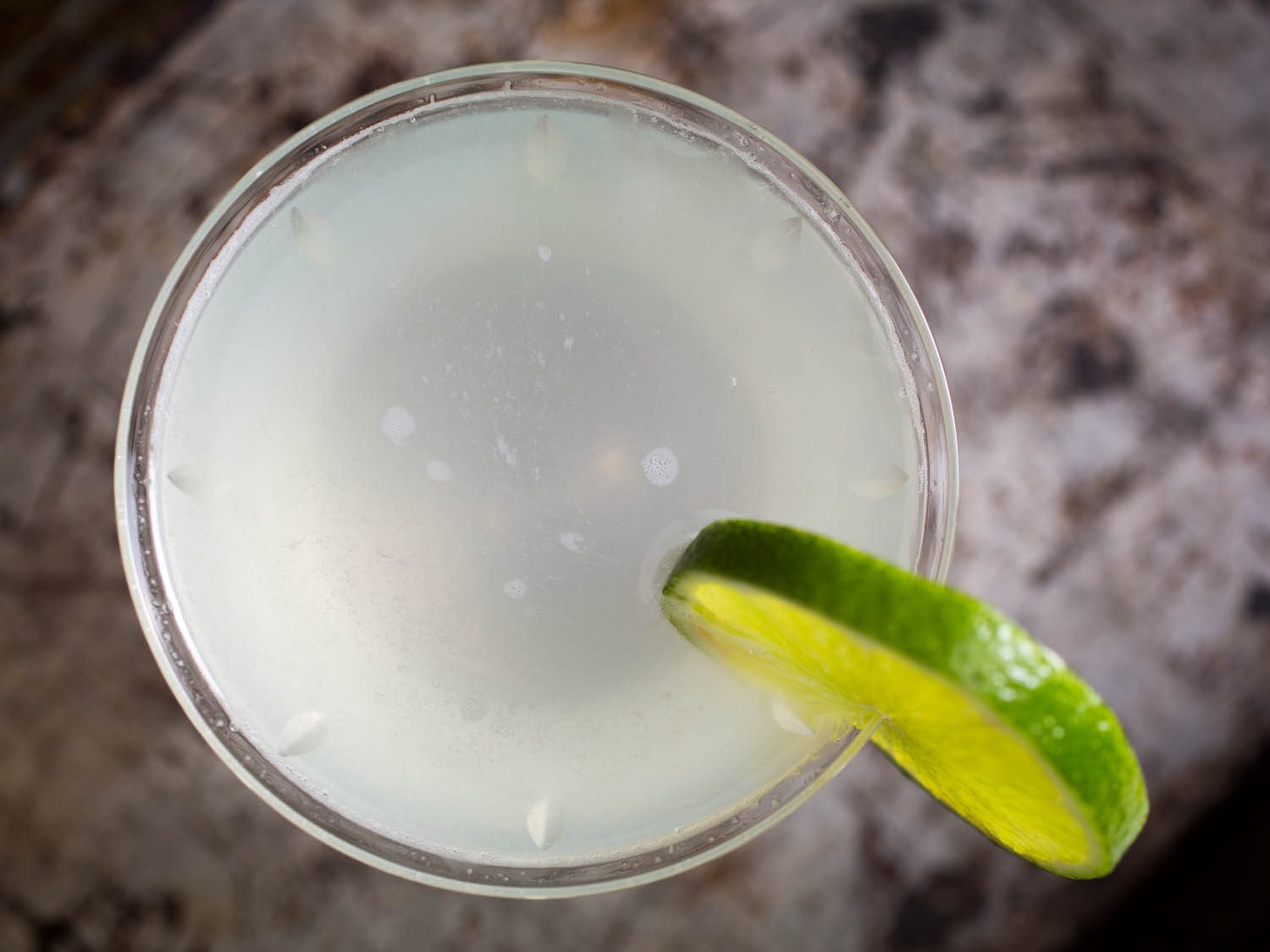 The classic daiquiri is a far cry from the blended, slushy sugar bombs you might be used to. Daiquiris originated in Cuba, in an iron mine. Legend has it that American mining engineer Jennings Cox invented the drink and named it after the beachside iron mine in which he worked near Santiago de Cuba. Daiquiris made the trip to the US after Congressman William Chanler bought the Santiago mines and introduced it to clubs in New York. Mix it up a little for Fat Tuesday and try the classic as it was meant to be enjoyed!
Ingredients
2 ounces light or gold rum (dark rum can be too heavy)

3/4 ounce fresh-squeezed lime juice (about 1/2 of a lime)

1 teaspoon sugar
Directions
Pour sugar and lime juice into a cocktail shaker and stir until sugar is dissolved. Add the rum and fill shaker with ice; shake well for 10 seconds and strain into a chilled cocktail glass. Garnish with a wedge of lime.
-via Serious Eats
Is there a more iconic New Orleans drink than the hurricane? Credit for the creation of this drink has long gone to Pat O'Brien, a New Orleans tavern owner that ran the O'Brien's Club Tipperary speakeasy during the prohibition. The password to get in: "storm's brewin'." During the 40s, O'Brien, looking for a way to get rid of a massive rum surplus, would pour various rums and juices into hurricane lamp shaped glasses and give it away to sailors. The rest, clearly, is history.
Ingredients
3 oz. Dark Rum

1 oz. Fresh Lemon Juice

1 oz. Orange Juice

2 oz. Passion Fruit Syrup

Orange Half-Wheel, for garnish

Maraschino Cherry, for garnish
Directions
Shake hard with ice, then strain into a Hurricane (or other tall) glass filled with fresh ice. Garnish with an orange half-wheel and a cherry (known as a flag).
-via Professor Cocktail
Fans of the old fashioned will feel right at home with a Sazerac. Named after the Sazerac de Forge et Fils brand of cognac, this drink's origins stretch all the way back to pre-Civil War era New Orleans. In fact, many claim this is the oldest American cocktail. Maybe it's just the oldest one we know the name of, as it's impossible to think that this drink was the first time in American that someone combined liquor and mixers.
It was in the 1850s that Sewell Taylor began to import spirits to New Orleans, including the Sazerac cognac. The drink became popular at the Merchants Exchange Coffee House, which eventually changed its name to the Sazerac Coffee House. In the 1870s, French vineyards were decimated by a grape-eating bug making cognac an expensive rarity. It was at this time the Sazerac began using rye whiskey as it's primary ingredient.
In 2008, the Louisiana Legislature made the Sazerac the official cocktail of New Orleans.
Ingredients
2 1/2 oz. rye whisky

1 sugar cube

2 dashes Peychaud's bitters

1 dash Angostura Bitters

absinthe

lemon peel

old-fashioned glass
Directions
In an Old-Fashioned glass (not a mixing glass; it's part of the ritual), muddle a sugar cube with a few drops of water.

Add several small ice cubes and the rye whiskey, Peychaud's bitters, and the Angostura bitters.

Stir well and strain into a second, chilled, Old-Fashioned glass in which you have rolled around a few drops of absinthe until its inside is thoroughly coated, pouring off the excess.

Garnish with a twist of lemon peel (some insist that this be squeezed over the drink and discarded).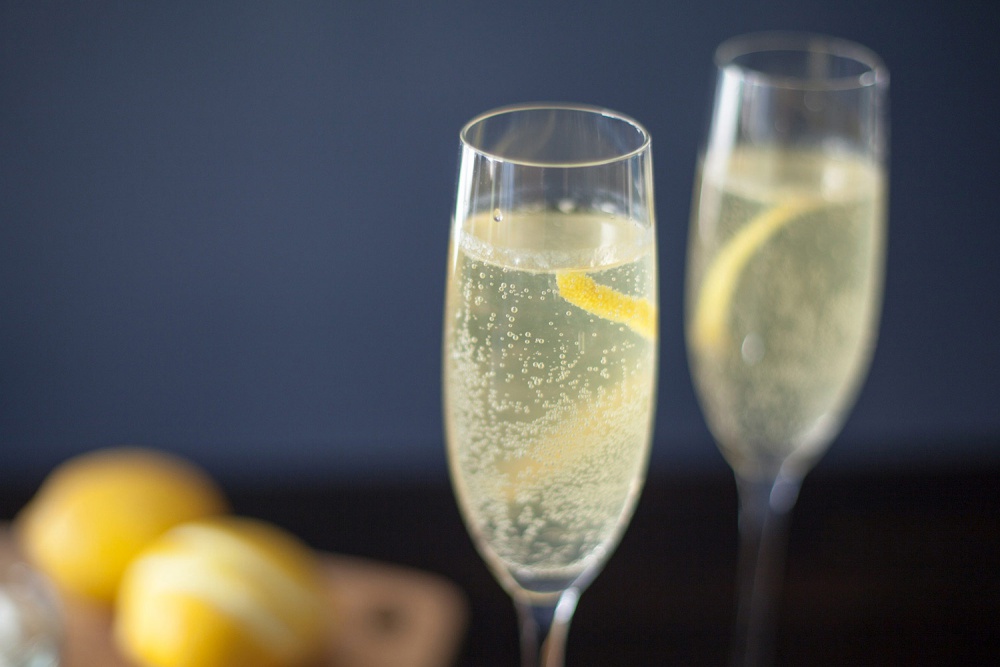 Dating all the way back to World War I, this drink was created around 1915 by Harry MacElhone, proprietor of Harry's New York Bar in Paris. It was said that the kick on this cocktail was strong enough that it felt like being shelled by the powerful French 75mm field gun. It was in 1927 that the cocktail developed into its current recipe and name. You can now find this cocktail being served up with gusto at Arnaud's French 75 Bar, the "grand dame of Creole", in the heart of New Orleans.
Ingredients
1 lemon

3 tablespoons (1 1/2 ounces) gin

1 1/2 tablespoons (3/4 ounce) fresh lemon juice

1 tablespoon (1/2 ounce) simple syrup

1 cup ice cubes

1/4 cup (2 ounces) dry sparkling wine, such as brut Champagne, chilled
Directions
Using zester or paring knife, slice peel from lemon in long, thin spiral. Reserve lemon for another use and set peel aside.
In cocktail shaker, combine gin, lemon juice, and simple syrup. Add ice and shake vigorously for 20 seconds. Strain into chilled Champagne flute and top with sparkling wine.
Curl lemon peel around finger to create twist at least 6 inches long. Garnish drink with twist and serve immediately.