Start/Sip Pourcast - Week 4 - Roughing The Passer
It's week 4, and the NFL is a goddamn mess.
Because of the new rules, defenses don't know how to defend, and coaches don't know how to coach. Refs don't know how to ref, and even commentators aren't quite sure how to announce. It's a bona fide disaster after just three weeks. I'm pretty sure Green Bay Packers linebacker, Clay Matthews, is considering leaving the NFL to sit on a rock with a sherpa on a mountain peak, above the clouds in the Himalayas. Meanwhile (as has been the trend with recent "safety conscious" rules implemented over the last several seasons), it seems that the more rules they impose, the more injuries there are. Miami Dolphins defensive lineman, William Hayes, tore his ACL in an effort to avoid falling directly on Raiders quarterback, Derek Carr. In an interview, Carr clearly stated "I wish the guy would have just landed on me instead of tearing his ACL. ...For him to tear his ACL, nobody wants that. I don't want that." Matthews was even more blunt, stating "unfortunately this league's going in a direction I think a lot of people don't like. I think they're getting soft. The only thing hard about this league is the fines they levy down on guys like me who play the game hard." Those are pretty clear indictments, and certainly don't require any further clarification. Here is the new NFL rule for Roughing The Passer in its entirety:
UNNECESSARY ACTS AGAINST PASSER
(2) A rushing defender is prohibited from committing such intimidating and punishing acts as "stuffing" a passer into the ground or unnecessarily wrestling or driving him down after the passer has thrown the ball, even if the rusher makes his initial contact with the passer within the one-step limitation provided for in (1) above. When tackling a passer who is in a defenseless posture (e.g., during or just after throwing a pass), a defensive player must not unnecessarily or violently throw him down and land on top of him with all or most of the defender's weight. Instead, the defensive player must strive to wrap up or cradle the passer with the defensive player's arms.
Here's the One-Step Rule:
PASS LEAVING PASSER'S HAND; ONE-STEP RULE
(1) Roughing will be called if, in the Referee's judgment, a pass rusher clearly should have known that the ball had already left the passer's hand before contact was made; pass rushers are responsible for being aware of the position of the ball in passing situations; the Referee will use the release of the ball from the passer's hand as his guideline that the passer is now fully protected; once a pass has been released by a passer, a rushing defender may make direct contact with the passer only up through the rusher's first step after such release (prior to second step hitting the ground); thereafter the rusher must be making an attempt to avoid contact and must not continue to "drive through" or otherwise forcibly contact the passer; incidental or inadvertent contact by a player who is easing up or being blocked into the passer will not be considered significant.
If there's one thing I understand within all of this, it is that for a 250-350 pound bull of a man, charging forward at full speed, to be able to suddenly pull off a tackle target, while his body is in a full state of forward momentum, is no easy task (see: General Physics - inertia & collisions). Speaking of someone removing their weight off of NFL players, perhaps it's time to look at replacing the league commissioner, or is Roger Goodell truly an untouchable oligarch reigning supreme over his kingdom of traumatic brain and soft tissue injuries? This is shaping up to be yet another four-alarm, fully fucked fiasco.
Start:
Joe Flacco (QB - BAL) @ PIT
The Steelers' pass defense has melted down so far this season, and they've allowed big games to quarterbacks. Flacco is well positioned to light them up this Sunday, and game script should favor the air game.
Allen Robinson II (WR - CHI) vs TB
Only the previously heralded Saints secondary has been easier on wideouts in 2018, and Mitchell Trubisky, albeit a lower producer than many other passers in the league, is developing a nice rapport with Robinson. In three weeks they've connected for 17 receptions on 28 targets for 194 yards. He hasn't found pay dirt yet, but this may be the week he lands one into the end zone.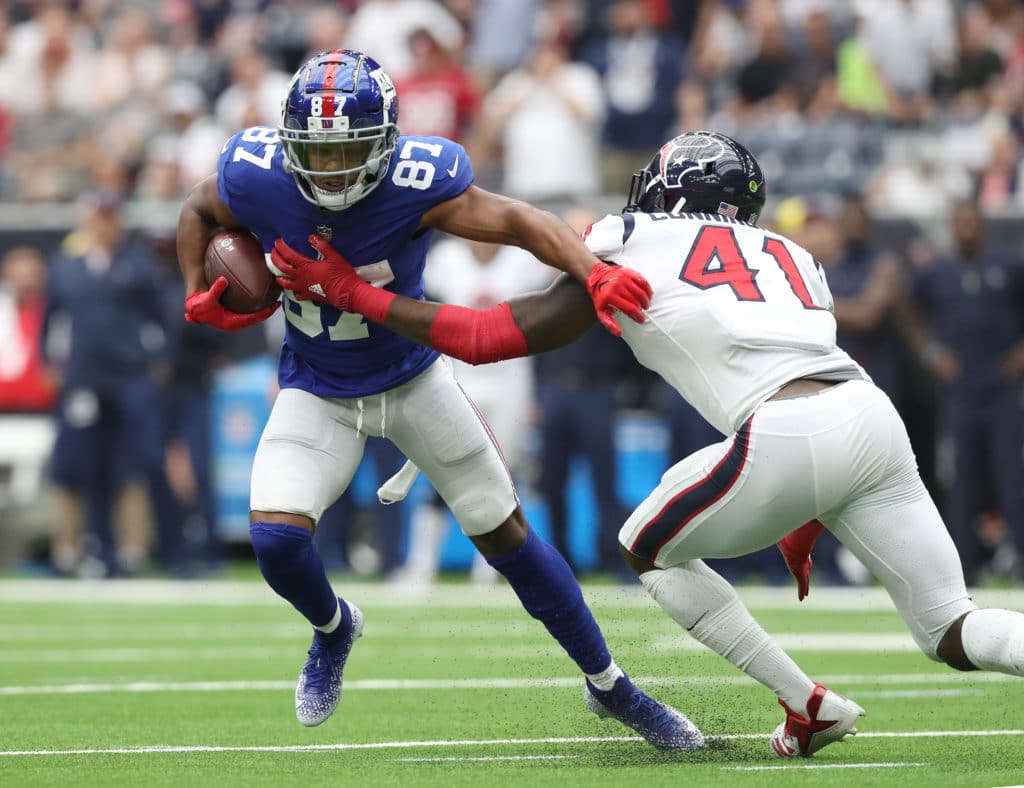 Sterling Shepard (WR - NYG) vs NO
Shepard's usage has been very low in a low powered offense, but the Saints pass defense is in shambles right now. He should provide decent WR3 numbers.
Sit:
Sam Darnold (QB - NYJ) @ JAX
The Jags have been living up to their reputation as the top defense in the NFL, so far, and they're strong against all aspects of an opposing offense. Darnold has had one of the toughest schedules for a quarterback in the NFL over the first four weeks, and it culminates in Jacksonville with the hardest matchup yet. It's not until after the Jets' week 11 bye that he finally gets a break. You might just want to dump him until then, at which point he may become a viable weekly streaming option in deeper leagues.
Jared Cook (TE - OAK) vs CLE
This one might come back to bite me, because let's face it… when does any fantasy decision involving Jared Cook NOT come back to bite you in the ass? The Browns defense is looking fresh and fly (I won in a league last week because I streamed them in place of the Saints D). They've shown consistency through the first three weeks of the season. They are currently the ninth toughest defensive squad against the tight end position. Let him cook on the back burner a little longer.
Peyton Barber (RB - TB) @ CHI
Barber and the Bucs (tell me that doesn't sound like a band name) travel to the windy city, where they will likely be pummeled by rain… and Bears. Barber faces as tough a first four weeks, as a running back, as Sam Darnold faces as a QB over in New York. Sit them both in week 4.